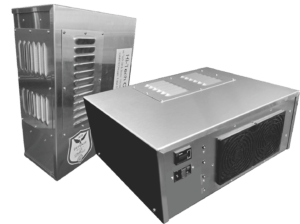 Type:
Stand – alone portable or mounted in large HVAC systems.
It contains two internal fan systems for circulation when used as a portable.
Coverage:
Up to 16,000 SQ FT / 1,487 SQ Meters
Electrical:
120 V – 240 VAC | 50/60 HZ | 130 watts
Mechanical:
4 x 14″ / 35.56 cm CIMR cells
2 x Filters
2 x Fans
Warranty:
3-years from date of purchase on device
1-year CIMR cell
Weight:
30 LBS | 13.06 KGS
Dimensions:
15″ H x 19.25″ L x 7.25″ W
38.1 cm H x 48.9 cm L x 18.42 cm W
Description:
Largest portable air purifier we make, perfect for larger applications.
Constructed of Military – Grade stainless steel, CIMR 414 can be used as a stand – alone wall – mounted unit or also be installed directly into the HVAC systems ductwork. Possesses the horsepower to sanitize larger environments with challenging situations.
CARB Certified
Produces zero ozone.
Facilities Application:
Used for large spaces like churches, places of worship, nursing homes and assisted living centers, commercial buildings, large residential buildings, school gyms and cafeterias, fitness centers, hotels, airports, sites under construction, auditoriums, theaters, and government buildings.
A single unit can influence up to 16,000 SQ FT / 4,877 SQ Meters
Multiple CIMR 414's may be used for larger or more challenging environments.
ENGINEERED, DESIGNED AND MADE IN THE USA